01469 577000 | info@trailertrans.co.uk | Eastfield Road, South Killingholme, Immingham, North Lincolnshire, DN40 3DQ
 Worldwide Freight
     To Europe and beyond ……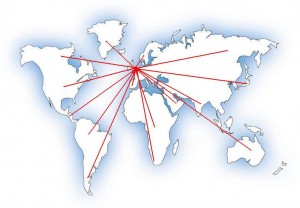 Ensuring your goods reach their destinations on time is vital for many businesses; both internationally and at home.
Likewise, if you need supplies or equipment, you want to be sure that it will arrive when and where you need it. That's where Trailer Trans comes in.
Unlike other international logistics companies, Trailer Trans works 24/7, 365 days a year to ensure that every one of our customers can depend on us to deliver on time, safely, and securely.
Our freight forwarding department specialise in all areas of freight outside of our own dedicated service, from organising the movement of a small box via a courier service, right up to the storage and distribution of full loads, and specialist freight project cargo.
We offer the following services:
Air, sea and road freight
Full loads worldwide
Part loads and groupage worldwide
Deep-sea shipments
Road haulage
Groupage distribution
Handling and warehousing storage
Preparation of customs documentation
Raising of freight documentation such as waybills
*Please note that this list is not exhaustive, if you have a specific requirement, please get in touch and we'll do everything we can to help.